A Traders Guide to Forex Trading With HY-Markets
HY Markets is a well known, FCA registered forex broker which is part of the Henyep Group. They benefit from more than 30 years of experience in the financial services industry, and from their London base they ensure that all their forex trading is incredibly reliable and secure as well as being subject to the strictest of regulation.
Which Trading Platforms do HY Markets Offer
HY Markets offer several different trading platforms, each suited to the needs of different types of investor, whether experienced in the money markets or completely new to forex trading. Although some of the platform types require software downloads, others can be accessed via mobile devices and are perfect for traders who like to check their assets while on the move.
All their trading platforms offer useful charting and analytical tools, ideal for improving trading experiences, and the interfaces are incredibly user friendly. All financial transactions are guaranteed to be secure and safe thanks to HY Markets' advanced encryption systems ensuring that all investors can deposit funds with complete peace of mind.
Are There Different Account Types Available?
Min. Deposit: $50
Foundation Year: 1999
Customer Service Hours: 24/5
Free Demo Account: Yes
60% Welcome Bonus
There are four different account types available to those who choose HY Markets as their forex broker, each meeting the needs of different investors. Those who are experts in the money markets can access the highest level HY Pro Trader account with its own leverage and spread by depositing over $5000. A Premium account requires a deposit of $2500 while a Standard account can be accessed with a deposit of $750. Those who are novices would be advised to opt for the Mini account for which only a $50 deposit is required. It is possible to access a demo account before committing any funds to take out a real account in order to test the trading platforms.
Other Important Information About HY Markets
HY Markets charge no commission or fees on any of their transactions and they promise that there will be no hidden costs for investors.
Spreads vary, with Mini, Standard and Premium account holders being offered a spread of 1.8 and those with a HY Pro Trader account being offered a spread of 0.5.
As well as trading in currency pairs, HY Markets offer the option in trading in other assets including precious metals, commodities, energy products, indices and traditional stocks giving a wide spectrum of choice.
Leverages vary, with those holding an HY Pro Trader account expecting a leverage of 200:1 to be extended with 300:1 offered on other account types.
HY Markets have streamlined their deposit and withdrawal systems so that investors can enjoy simplicity and convenience. Withdrawals are rapid and efficient, with different methods on offer including traditional wire transfers and more modern internet methods like PayPal, MoneyBookers, Skrill and WebMoney. A simple online form is all that is required to facilitate withdrawal of funds although depending on the third party security checks by banks, funds may not show in a trader's account for up to 10 working days.
The customer support service available through HY Markets is excellent and is available Monday to Friday 24 hours a day. There is a host of different contact methods including email, telephone and online chat facilities, and the support staff are multi-lingual and well informed, able to assist investors with a wide range of issues and problems.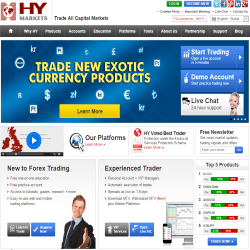 HY Markets' website also has an educational resources section, dedicated towards helping novice investors to learn more about the money markets. With a range of helpful tools, glossaries, tutorials, videos and articles, they can help even newcomers to maximise their profits and gain a competitive edge.
There is also a range of up to the moment live services including live market prices and news reports from Reuters. Investors can receive direct SMS alerts straight to their mobile phone, and HY Markets' advanced charting systems and analytical tools help investors to be one step ahead.
What Are the Advantages of Choosing HY Markets for Forex Trading?
Investors can benefit in from choosing HY Markets as their first choice of forex broker.
They have several different trading platforms for all requirements with accessible interfaces
Trading platforms are able to be accessed from both PCs and mobile devices
HY Markets are FCA regulated and are safe and reliable
The customer service team is professional and multilingual. They can be accessed 24 hours a day by different contact methods including telephone, email and online chat
HY Markets' withdrawal and deposit systems are varied and efficient with both traditional and modern online methods available
There is the option to trade in a range of assets as well as foreign currencies including indices, commodities and stock
The website has a range of helpful educational resources
Live access is given to Reuters news and current market prices